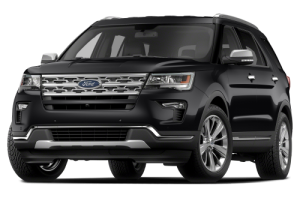 Each year, thousands of children become involved in car accidents. As a parent, your top priority is likely to do whatever you can to reduce your child's risk of getting hurt in the event that a car accident does arise. If that's the case you'll likely love our comprehensive article on rear-facing car seats.
By making sure your child has a car seat that is right for their size and age, you can lower their risk of sustaining serious injuries and even save their life.
If you're in search of a car, truck, or SUV that is great for a car seat, you should consider the 2018 Ford cars, trucks, and SUVs. All of these vehicles features spacious interiors and a wide array of safety features, making them ideal for safely and comfortably transporting your child from point A to point B. In addition, they are equipped with wide door openings so that you don't have to spend a great deal of time and energy twisting and turning when trying to maneuver a bulky car seat.
We reached out to a Ford dealership in Clayton, North Carolina and they told us to check out their new Ford models:
2018 Ford Escape – There are two full sets of LATCH car-seat connectors in the Escape and the NHTSA gives it a 5 star overall safety rating.

2018 Ford Explorer – Car seat tether anchors are difficult to find in the newly redesigned Explorer, but, there are lots of them in both the second and third row. The NHTSA gave the 2018 Explorer a perfect five-star overall rating.

2018 Ford F-150 – The crew cab has enormous amounts of room in the rear so you can stick car seats in here without even moving the front seats forward. The F150 comes in so many flavors you'll have to research it some more yourself if you plan on having children in it on a regular basis. There are indeed 2 rear seating positions with complete child seat attachment (LATCH) hardware, at least in the crew.

2018 Ford Flex – This SUV has 3 LATCH connectors for installing child seats. At the time of this article, the NHTSA had not evaluated the SUV for safety.

2018 Ford Fusion – In the rear there is a tether in the middle and 2 LATCH systems. At the time of this article there was no 2018 NHTSA rating but the 2017 model is similar and received a five-star overall rating.
If you purchased a Ford please feel free to comment below with your car seat and/or safety experiences.