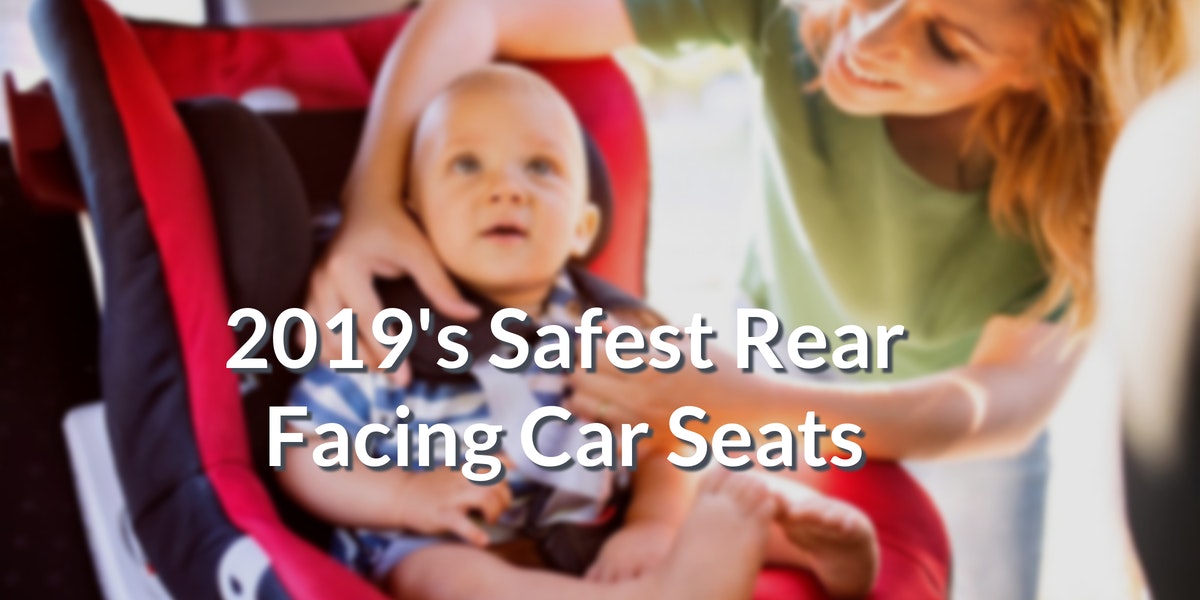 Automobile accidents are the number one cause of death to children. This page quickly explains rear facing car seats.
You will be a rear facing car seat expert in 2 minutes from now.
Ages for rear facing car seats
Car seat laws are confusing as most states all have different laws. Additionally, most states do not require parents to use rear facing car seats past 12mos.
FACT: According to an article in the journal Injury Prevention, during an accident, infants in a rear facing car seat are up to 500% less likely to be injured. A rear facing car seat cradles and moves with the infant which reduces stress on their fragile neck and spinal cord.
Age: According to the NHTSA, children should remain in a rear facing car seat until they reach the top height or weight limit allowed by your car seat's manufacturer. In most cases, children are 2 – 3 years old when they meet this criteria. A study by the American Academy of Pediatrics backs this up as well.
Here is a graphic designed by the NHTSA:
Types of rear facing car seats
Confusing some people are the many types of rear-facing car seats. Let's clear that up.
Rear-Facing Only: Also called "infant seats", these car seats are for newborns and can only be used as rear-facing. Rear-facing only car seats are usually outgrown by infants at 8 – 9 months of age.
Convertible Seat: This seat can convert from rear facing to forward facing. Manufacturer sizes vary.
All-in-one seat: This seat can convert as well and also has a booster seat.
In most cases, people get a rear-facing only seat until the infant is about 9 months old, then a convertible seat. The convertible faces the rear until it can be turned forward facing. When the child is old enough they can then get a dedicated booster seats. Booster seats are cheap. At 8 – 12 years of age, the child can go to a normal seat belt. For a seat belt to fit properly the lap belt must lie snugly across the upper thighs, not the stomach.
Best Rear-Facing Only Car Seats of 2019
Below are the top rated rear-facing only car seats:
Chicco Keyfit Infant Car Seat
This is the Number 1 rated infant car seat in America. It is extremely popular on Amazon with hundreds of 5 star reviews, and is the safest according to Consumer Reports. And it is only $199.


Features:
Fits babies 4 – 30 pounds up to 30″ tall

Comes with infant inserts
Convenient

5-point harness with one-pull tightener

Comes with base

Seat interior lined with EPS energy-absorbing foam for improved impact protection

Adjustable canopy

Easy one-hand removal from base

Ergonomically designed carry handle

Conforms to FMVSS 213

Compatible with Chicco Bravo, Cortina, Neuvo, TRE, Activ3, Cortina Together, Liteway Plus, and KeyFit Caddy strollers

Works with vehicles with no LATCH using a built-in, belt routing, lock-off system
---
Chicco Fit2 Rear-Facing Car Seat
We love this rear-facing car seat as it will hold most children all the way up until age 2. Coming in at $279, the car seat gets an "Amazon's Choice" award.  Reviewers also give the car seat a full 5 star rating. This one has a "2 stage base" which converts from infant to  toddler.
Additional features:
This car seat fits babies from 4-25lbs and accommodates children up to 35″ tall.


The 2-Stage base converts from Infant Position to Toddler Position.

Upright, spacious seating with adjustable and extended leg room for toddlers 9-24 months – without taking up extra space in the vehicle.

Easiest to install with Recline Sure levelling foot, Ride Right bubble levels, and "Super Cinch LATCH."


Compatible with Chicco strollers for travel system use.
---
Britax B-Safe 35 Infant Car Seat
Recommended by Consumer Reports and many other car seat safety websites, the Britax B-Safe 35 fits babies 4-35lbs and up to 32″ tall. Amazon User Niel left a review for this car seat which said "Totaled our car. Our son came out unscathed. Immediately repurchased." This seat is not as popular as some of the others here but is indeed a highly rated car seat. This seat normally runs about $160 – $200.
Click here for the current Amazon price.
Additional features:
Comes with base

Works with vehicles with no LATCH

Fits Child Standing Height:32 inches or less. Child Seated Shoulder Height:6.5 – 11 inches. Seat Back Compartment Height:20 inches. Seat Area Depth / Width:13/8.75 inches. Shoulder Width:10 inches. Harness Slot Heights:5/7/9/11 inches. Buckle Strap Depths:4/6 inches.

Safe Cell Impact Protection is an integrated system of safety components that works to protect your child beyond federal safety standards. Impact-absorbing base compresses to reduce the rough force of a collision.

Impact-stabilizing steel frame offers superior strength where you need it most at the connection point to the vehicle. Removable head pad acts as a cushion for your child and can be removed.

Click & Go stroller compatibility allows you to pair the seat with any Britax stroller.

Made in USA.

---
Didn't find what you were looking for? Check out all infant car seats on Amazon here.
Sources and Resources