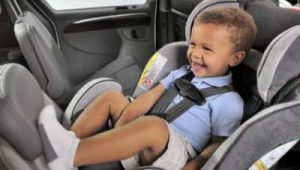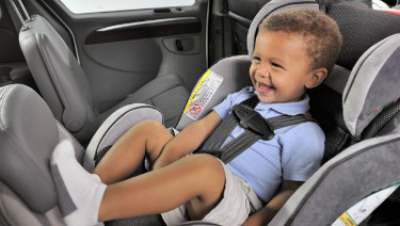 According to Ohio State Law, all children under the age of 8 years old must be in either a car seat or a booster seat suitable for their age and height. Infants must be in a rear-facing seat. Later, children transition to a forward facing seat and then a booster seat.


Laws
Here are Ohio's car seat laws:
Ohio safety officials recommend infants be placed in a rear-facing car seat until they exceed the manufacturer's car seat recommendations.
Toddlers who have outgrown back-facing restraints should move into forward-facing restraints.
Children under the age of four and under 40 pounds must be in an appropriate safety restraint for their weight and height in the car's rear seat.
All children under the age of eight and shorter than 4'9" (but who exceed the recommendation for forward-facing restraints) must be placed in a booster seat. Parents must ensure all children that are placed in booster seats are comfortably strapped in with both the shoulder and lap belts.
Any child below the age of eight who is taller than 4'9" can legally transition from a booster seat to the car's seat belt.
Regardless of height, children between the ages of eight and fifteen are required to sit in the car's rear seat and wear the car's safety belt.
Drivers who fail to comply with the above laws could face fines between $25 and $75.
Additional resources:
Ohio may be the "Birthplace of Aviation" and all, but most Ohioans nowadays still rely on earthbound transportation. Until the reincarnated Wright Brothers invent affordable jetpacks and flying saucers, residents in Ohio must practice safe driving in their humble automobiles. If you're a new Buckeye parent, then you need to know a thing or two about Ohio's child safety seat laws. Before driving around this fine Midwest state with your children, please be sure you know Ohio's safety laws like the back of your hand.
For more information on Ohio's child safety laws, check out this educational video published on WUPW Fox Toledo's YouTube page:

Ohio's Department of Health published this helpful safety brochure to inform parents about the state's safety laws.
Lastly, the official child safety seat law on Ohio's books (listed under the number 4511.81) can be found on this webpage.