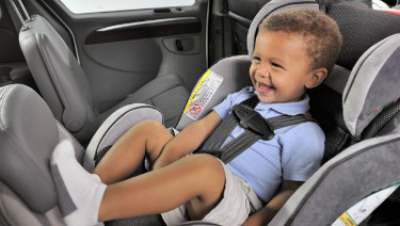 Maryland's car seat law was last updated October 1, 2013 and states:
A person transporting a child under the age of 8 years in a motor vehicle shall secure the child in a child safety seat in accordance with the child safety seat and vehicle manufacturers' instructions unless the child is 4 feet, 9 inches tall or taller.
Source: Maryland code 22-412.2.
Rear Facing, Forward Facing, Booster Seats
Maryland doesn't specify which seat to use, however, using the wrong seat car easily result in serious injury or death.
Rear Facing: A recent report released in August 2018 from the American Academy of Pediatrics (AAP) suggests keeping children in rear-facing car seat restraints until they meet and exceed the manufacturer's recommended weight & height threshold. Most manufacturers nowadays make rear-facing restraints that are able to handle children up to 40 pounds. While this is a good rule of thumb, it's critical for parents to check their manufacturer's specific height & weight recommendations in their seat's instruction manual.
Forward facing: Again, once your child exceeds the height and weight specifications of a forward facing seat, they can go to a booster.
Booster: The law is to keep children in a booster until they're 4 feet, 9 inches tall or taller. While Maryland law allows children to graduate to no booster after the age of 8, waiting until they're 4'9″ will statistically keep them much safer and prevent spinal damage in the event of many types of accidents.
Additional resources for Maryland parents: