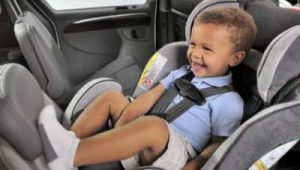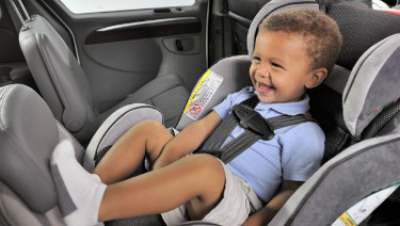 According to Georgia State Law, all children under the age of 8 years old must be in either a car seat or a booster seat suitable for their age and height. Children under eight and also shorter than 4'9" must must ride in the backseat of a car.
Welcome to Georgia
Everyone knows that Georgia is always on Ray Charles's mind…but you'd better have this state's child safety seat laws on your mind if you're traveling with children. While the Peach State doesn't have the strictest child car safety laws in the nation, police are serious about enforcing them. Below, we'll go over everything you need to know about traveling safely with your kids from Dalton to Valdosta and everywhere in between. Please pay special attention to the links to car seats in this article.
The Laws
In Georgia, vehicle accidents are the #1 cause of serious injuries and death to all children under the age of 12. To keep your kids as safe as possible, you will need car seats that exceed the law's minimum requirements.
All children under the age of eight must be in an appropriate safety restraint for their height and weight.
All children under the age of eight and shorter than 4'9" must be in the back seat of the vehicle (exceptions below).
Georgia authorities recommend a rear-facing seat for newborns under 20 pounds.
Georgia authorities recommend a forward-facing seat for toddlers under 40 pounds.
Georgia authorities recommend a booster seat for children under 80 pounds and below 4'9". Children placed in a booster seat must be strapped in with the lap and shoulder belts.
Police officers can fine you up to $50 for a first offense and take off points from your license. As of today, you will lose one point per child that isn't properly restrained in your car. Both penalties double with the second offense.
Although Georgia law doesn't require it, safety officials encourage all children under the age of 13 to sit in the car's rear seats.
The only time a child under eight could be in the front passenger seat is if the back seats are occupied and the proper child safety seat is installed in the front seat. This can be extremely dangerous for children under 40lbs and airbags can be deadly for children.
Pick Up Trucks:
If there is no back seat in the vehicle or if other restrained children are in the back seat, Georgia State Law permits a child under the age of 8 to sit in front if restrained in the proper car seat or booster and the child is 40 pounds or more.
Additionally, we recommend you DISABLE airbags if a child must ride in a front seat.
Additional Resources
WSB-TV 2 Atlanta published this helpful video with Montlick & Associates on YouTube all about child car seat safety:

Georgia's Department of Public Health (DPH) also put together a great infographic to help you better understand child safety seat recommendations on this webpage. To access Georgia's DPH directly, take a look at this website.
If you're at all unsure whether or not your car seat is installed properly, be sure to schedule an appointment with a child seat safety professional by calling 866-SEATCHECK (866-732-8243) or finding a safety inspection location near you on this website.