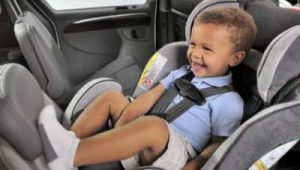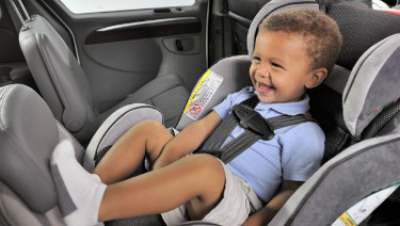 Florida law requires children under the age of 5 years old to be secured properly in a federally approved and crash tested child restraint device. Children aged 4 – 5 can be in a car seat or a booster seat. Children 6 – 8 must remain in the rear seat of the vehicle and use a seat belt at all times.
There's no state on this website more important to know the child safety seat laws for than Florida. Let's face it, if you're a new parent living in the USA, then you're bound to visit Disney World sooner or later. Luckily for you, Florida's safety seat laws aren't that different from most other states in the nation. Please give the list below a quick read through to get a better understanding of the Sunshine State's child seat safety laws. We'll also give you a few helpful online resources to keep your kids safe as you cruise around Florida.


Florida car seat laws
According to Florida State Law, all children under the age of four have to be secured in either an appropriate child safety restraint or a built-in safety seat in the car's back seat. Fact: Your child is drastically safer in a car seat until age 2. Here's why and the Top Rated Rear-Facing Car Seats. Child safety experts recommend infants under 20 pounds be secured in a rear-facing restraint, toddlers under 40 pounds be placed in a forward-facing restraint, and children who outgrow their forward-facing restraint be placed in a booster seat.
According to Florida State Law, children between the ages of four and five should be in an approved safety restraint or booster seat, depending on the child's weight and height.
Florida law doesn't restrict children under 4'9" from transitioning to a car's safety seat, provided, of course, that the child is over the age of five. NOTE: It is a proven fact that children are significantly safer in a booster seat until they are 4'9″ tall.
Child safety officials advise parents to keep their children in the back seat until they turn 12 years old.
Parents who don't secure their children in an appropriate safety restraint will be fined $60 and lose three points on their driver's license.
Heat Warning
Florida isn't called the "Sunshine State" for nothing. The heat can get pretty intense in this state, which means children are extremely vulnerable to vehicular heatstrokes if left unattended. Parents who leave children unattended in a vehicle for 15 minutes or more can be charged with a second degree misdemeanor. To learn more about the dangers of vehicular heatstrokes and how you can prevent them, please read through this pamphlet put together by KidsandCars.org.
Additional Resources