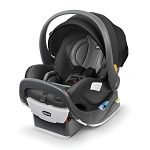 According to Alabama State Law, all children below the age of six must be properly secured in a safety restraint appropriate for their age and/or weight in compliance with the United States Department of Transportation Standards and according to the specifications listed by the safety seat's manufacturers.
Law enforcement in the great Southern state of Alabama want every parent to know the ins-and-outs of its child safety seat laws. Luckily for you, Alabama's laws aren't that difficult to memorize. Below, we'll go over everything you need to know to keep your children safe as you cruise around the Yellowhammer State. At the end of this article, you'll find a few helpful video links with potentially life-saving information.
Alabama Child Safety Seat Laws
All toddlers under the age of one or weighing less than 20 pounds must be secured in a rear-facing restraint.
Children between the ages of one and five or under 40 pounds must be placed in a forward-facing car seat.
Between the ages of five and six, all children must be placed in a booster seat.
Children between six and 15 years old can legally wear the car's seat belt in the back seat. (Alabama law enforcement encourages parents to transition from a booster seat to the car's safety belt per their safety seat manufacturer's instructions.)
Drivers will be fined $25 by the Alabama state police if they are caught with a child in an improper restraint.
Yellow Dot Program
To keep residents safe in case of a car crash, Alabama is a part of the "Yellow Dot" program. People enrolled in this program receive yellow dot decal they must put on their car. Participants also have fill out a few forms listing critical information like their name, their doctor's name, and emergency contact numbers. These forms are then placed in a folder in the driver's glove compartment.
Once a first responder in Alabama arrives at the scene of an accident, they first look for the yellow dot on the vehicle. If they see the yellow dot on the car's side rear window, they know to check the glove compartment for the driver's critical information. This info can really help save people who've been severely injured in a car crash. To learn more about the "Yellow Dot" program, check out this link. You can also watch this informative video put out by TV24 News.
Additional Resources
For more info on car seats, check out this short TV segment produced by WBRC Fox 6 News. Of course, you could find out more on Alabama's safety laws and a whole lot more on the Alabama Law Enforcement Agency's website or social media pages.